The King County Alliance for Human Services' mission is to create stable, secure community based health and human services with adequate capacity to help every King County resident thrive.

Census 2020 is coming it is a special once in a decade opportunity to make sure that our communities receive federal funding they need for a variety of vital services.  These statistics are used to distribute billions of dollars including Community Development Block Grant (CDBG), WIC, SNAP, Section 8 Vouchers, school lunches, WA State Children's Health Insurance (CHIP) and Low Income Home Energy Assistance Program (LIHEAP).
Human Service Providers are trusted messengers in our communities and can play a role in encouraging people to be counted.
Below are contacts and information sources for you and your organization to stay informed and participate:
Local Government – King County:
Heidi Park
Census External Partnerships Program Manager
Office of King County Executive Dow Constantine
Office: 206.263.4152
Cell: 206.290.3703
www.kingcounty.gov/census
Non-Profits
Office – 855-299-2922
Mobile 408-505-6606
washingtonnonprofits.org
Action Kit – https://washingtonnonprofits.org/public-policy/2020census/
Morgan Feder
Census Manager
Pronouns: she/her/hers
census@washingtonnonprofits.org
Federal Census Representative:
Francesca Ty Abellera  – Francesca.ty.m.abellera@2020census.gov
Partnership Specialist, US Census Bureau CPEP
(206) 979-8126
https://2020census.gov/en
Latest News:
June 26th
Many of you has had some questions on Service Based Enumeration (SBE) in our previous meetings and here are some helpful resources and updated factsheets I found from our website along with a YouTube video on SBE, I thought to share with you all.
Here is the link to the updated information on our website. (includes the updated fact sheets)
Have a wonderful weekend!
Warm regards,
Francesca
February 4th
I am excited to announce Washington Nonprofits has created a new Census website! It is a one-stop-shop for all of our Census materials, resources, webinar recordings and more. Click the link below to check it out!
Upcoming Webinars
Washington Nonprofits has two webinars coming up in February. We will be hosting a Census Accessibility Webinar on February 5th from 10:00am – 11:00am and a Questionnaire Assistance Webinar on February 11th from 12:00pm – 1:00pm. Stay tuned for more information on the Feb. 11 webinar.
Join the Census Cohort!
It's not too late to sign up for the Census Cohort. These networking videoconferences (with call-in option as well) will take place on February 20th, March 19th, and April 16th.  The Census Cohort is a monthly videoconference for nonprofits doing Census outreach. On the call, we will share resources, strategize as a group about census outreach, and learn from each other about how to more effectively engage hard to count communities. When you sign up, you will also have access to the Census cohort online forum where you can suggest agenda items, access summaries and recordings of the calls, and share materials.
Click the link below to register. I encourage you to sign up even if you cannot attend all of the dates listed. I will be sending out the recording and summary of the call to everyone who is registered.
Pierce County Census Outreach Featured on KUOW
It's wonderful to see news outlets highlighting the creative outreach folks in Pierce county are doing to ensure a complete count. Click the link below to read or listen to the article.
As always, please doesn't hesitate to reach out with any questions.

Take care,
Morgan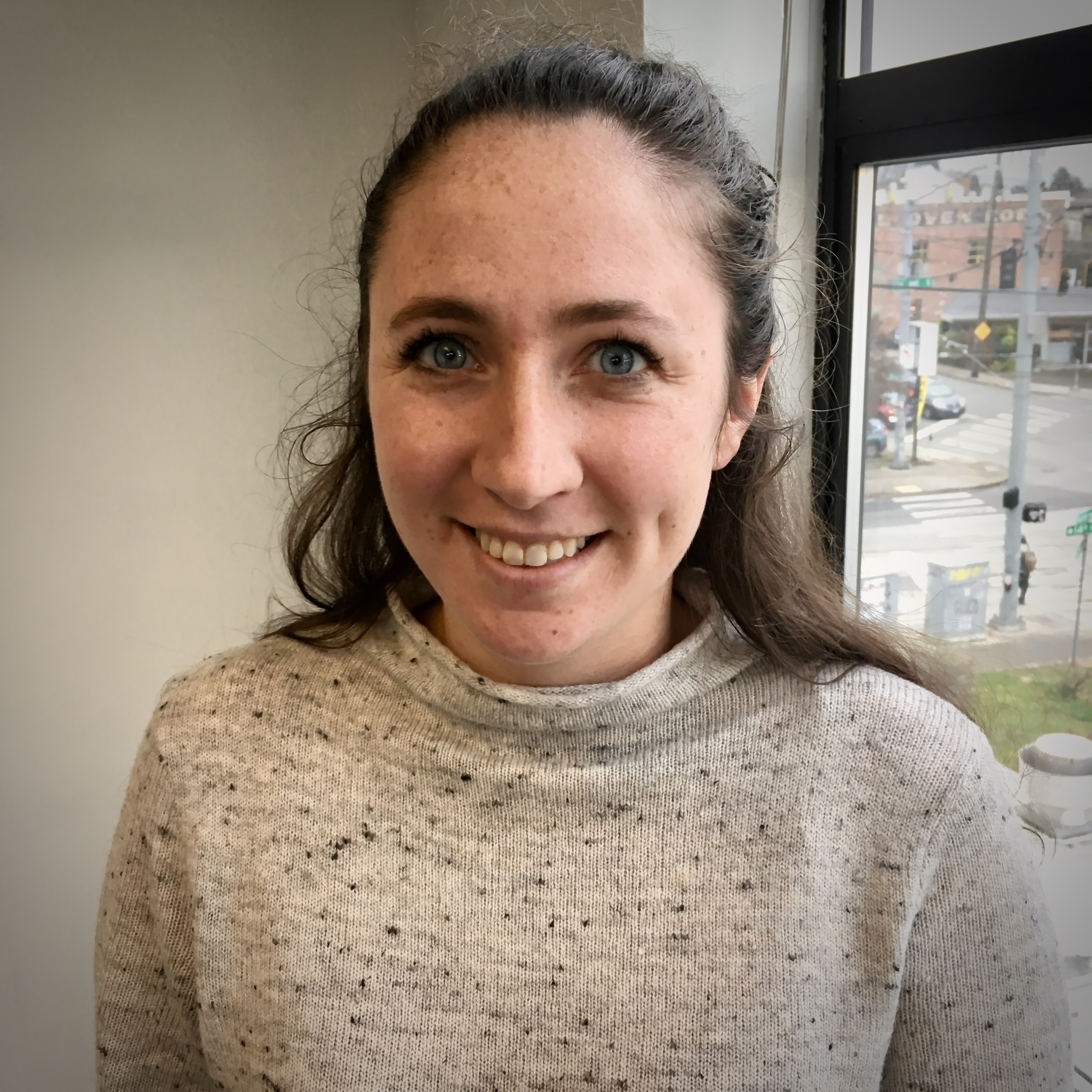 Morgan Feder
Census Manager
Pronouns: she/her/hers
census@washingtonnonprofits.org
P.S. If you didn't receive this directly, click here to sign up to receive these updates in the future.
November 5th
Hello state partners,
Join CHN and partners for a webinar December 4th at 2pm ET to learn what service providers need to know about the 2020 Census. Learn from leaders of the national Count All Kids Campaign and the Census Counts Campaign as well as a local service provider about:
What's at stake in the 2020 Census.
What service providers need to do between now and the Census.
Where to get free/easy-to-use resources that can be used to achieve our goals.
Which strategies works and what missteps to avoid.
Register now, even if you can't attend, to ensure you have the recording and follow up materials sent to you. Register at this link here.
Speakers:
Beth Lynk, Census Counts Campaign Director, The Leadership Conference on Civil and Human Rights
Deborah Stein, Network Director, Partnership for America's Children
A local service provider TBA, Community Action Partnership
Moderator: Deborah Weinstein, Executive Director of the Coalition on Human Needs
Hope you can join!
Diali Avila (she/ her/ ella)
Senior Field Manager
The Leadership Conference on Civil and Human Rights
The Leadership Conference Education Fund
1620 L Street NW, Suite 1100, Washington, D.C. 20036
602-544-7196 – mobile
avila@civilrights.org
www.civilrights.org
www.censuscounts.org 
October 29th
Greetings,

I am writing to let you know that the Washington Census Equity Fund RFP is now open, with applications due on November 22nd. The Washington Census Equity Fund, managed by Philanthropy Northwest, maximizes the impact of philanthropic resources toward the goal of a robust and accurate 2020 Census count across the state. The overarching desired outcomes of this effort are to organize, inform and activate residents in historically underrepresented communities that are at risk of being undercounted in the 2020 Census.

Applicants can go to the Funding Opportunity webpage to read more about the RFP, get more information on the informational sessions, and find the application link.

Please let us know if Washington Nonprofits can be helpful to you in your application. We're always happy to talk Census, so don't hesitate to reach out.

Also, do you have an interest to participate in a grant review process? The Washington Census Equity Fund is seeking community reviewers to evaluate proposals between November 22-Jan 3. If you work with an organization (as staff or board member) and anticipate they will apply for funding, it is suggested you not submit a reviewer application unless you are certain they will not be applying.  Community reviewers will receive a stipend. If you are interested, please email CensusEquity@philanthropynw.org to receive more information on how you can be a reviewer. Deadline to be considered to be a reviewer is November 18.

Thank you very much,
David

David Streeter
Director of Public Policy & Advocacy
david@washingtonnonprofits.org
October 29th
Hi all,
Alliance for Justice and Common Cause have a new factsheet on how advocates can encourage states to waive income earned from temporary census employment for SNAP, TANF and Medicaid/S-CHIP benefits.
The factsheet also links to a google sheet that we are continuing to update that shows which states have not yet opted into the waiver process.
This list is ever-evolving, so please let me know if you have more update to date info for your state than we do.
The deadline for opting into the waiver process is December 2019.
Thanks!
Keshia & Leslie
Keshia Morris
Census & Mass Incarceration Project Manager
Common Cause
805 Fifteenth St, NW, Suite 800
Washington, DC 20005
(o) 202.736.5774 | (m) 954.662.2745
kmorris@commoncause.org
www.commoncause.org
October 14th
Census 101 for Nonprofits Webinar Available for Circulation
This week we held our Census 101 webinar for nonprofits. You can access the recording here. Please feel free to share it with your organization and colleagues. We also would love it if you could post it to your social media at some point where it fits with your existing messages.
Tuesday October 15th: Webinar: How Nonprofits Can Support Census Hiring
The U.S. Census Bureau is currently recruiting workers to help get out the count in 2020. Nonprofits can help in this process by making sure individuals with deep community knowledge know about these job opportunities and apply. Please join us for a brief presentation that will cover:
Who the Census Bureau wants to recruit;
Why it matters for Census workers to know their communities; and
How nonprofits can help.
Washington Census Equity Fund Listening Session
The Washington Census Equity Fund is conducting a second and final round of funding later in the Fall (RFP dates forthcoming). On October 16 from 10-11:30am, we are inviting potential second round applicants, funders, and community-based organizations to an open Listening Session. Our goal is to gather input from communities and organizations that will advise our RFP process, so that it incorporates the best ways to conduct census outreach and addresses current gaps in funding. Click here to learn more.
Regional Funding Sources
We are aware of current Census funding opportunities in these counties (click to view more info):
Kitsap County
Pierce County
Seattle/King County
Please let us know if you know of additional funding sources we can circulate.
Please click on the below image for the Census Counts 2020 newsletter.
September 17th
From: Park, Heidi
Sent: Monday, September 16, 2019 5:24 PM
Cc: Knight, Calli <CKnight@kingcounty.gov>
Subject: Regional Census Fund Accepting Applications
Importance: High
Hello 2020 Census stakeholders,
I'm writing to let you know that the RFP for the fall round of Regional Census Fund funding is live! In partnership with the Seattle Foundation, City of Seattle, City of Bellevue, City of Kirkland, and the City of Redmond, the Regional Census Fund supports organizations seeking to organize, inform, activate, and assist residents in historically underrepresented communities that are at risk of being undercounted in the 2020 Census.
Community organizations in King County are invited to apply for grants of $5,000-$20,000 to conduct 2020 Census outreach, education, and questionnaire assistance in historically undercounted communities. Grant amounts will depend on the scope of work.
The Fall deadline to apply to the Regional Census Fund is October 16, 2019, at 5 P.M. (PST). Funding will be announced and distributed in December 2019. Applicant organizations must be a tax-exempt nonprofit under section 501(c)3 of the IRS code or be fiscally sponsored by a 501(c)3 organization. Organizations who did not receive a grant during the Spring funding round are eligible to apply.
We are prioritizing applications from community-based and grassroots nonprofits and tribes that:
Are led, staffed, or guided by individuals reflecting the race, ethnicity, and culture of the communities being served;
Showcase a history or demonstrated ability to reach and engage members from their communities; and
Have a plan for engaging historically undercounted communities.
Priority populations for the Regional Census Fund include:
Communities and people of color (e.g., African American, Latinx, Pacific Islanders)
Indigenous persons
Immigrants
Recent refugee communities
Low-income persons
Renters
Persons experiencing homelessness
Persons with mental or physical disabilities
Non-English speakers and English Language Learners
LGBTQIA persons
Children under 5
Geographic localities (e.g., Rural)
We are hosting number of public information sessions to provide information about this grant opportunity:
South King County – 9/23 from Noon to 1:00 PM at Kent City Hall Centennial (400 W Gowe St, Kent, WA 98032). In partnership with the South King County 2020 Census Table.
East King County – 9/24 from Noon to 1:00 PM at Kirkland City Hall (123 5th Ave, Kirkland, WA 98033). In partnership with Cities of Kirkland, Redmond, Bellevue and the East King Communities Count Committee)
Seattle – 9/27 from 10am-12:30pm at Urban League Seattle (105 14th Ave, Seattle, WA 98122).
North King County – Date and location TBD
You can find the Request for Proposals, additional information, and the online application through these links:
https://tinyurl.com/RegionalCensusFundRFP
https://seattlefoundation.smapply.org/prog/regional_census_fund/
If you have any questions regarding eligibility or alignment of your proposal with the funding criteria, please email Bao-Tram Do at b.do@seattlefoundation.org. We invite you to share this opportunity widely with your network and encourage those organizations that may qualify for funding to contact us.
If you have other questions related to the 2020 Census and King County's work to support an accurate and robust count of all King County residents, please feel free to email me at hpark@kingcounty.gov.
Thank you,
Heidi Park
Heidi Park | Census External Partnerships Program Manager | King County Office of Executive Dow Constantine |hpark@kingcounty.gov | o. 206-263-4152 | c. 206-290-3703
August 20
Click the image to download the slide deck
August 15
From: StatesCount-owner@civilrightscoalition.org <StatesCount-owner@civilrightscoalition.org> on behalf of Raima Roy <rroy@advancingjustice-aajc.org>
Sent: Thursday, August 15, 2019 6:01 AM
To: statescount@civilrightscoalition.org <statescount@civilrightscoalition.org>
Subject: [STATES COUNT] INVITATION: 9/10 Webinar on Census & Data
Hi Census Partners,
We are hosting the 12th installment of our monthly census webinar series in September. Please join us for a webinar on Census & Data on Tuesday, September 10 at 4PM ET/ 3PM CT/ 2PM MT/ 1 PM PT/ 10AM HT. This webinar will discuss census and data security, diving deeper into how the Census Bureau will be addressing security challenges on the first ever online census questionnaire. We will also go over how the Census Bureau keeps census data confidential and how census data are used to allocate federal funding. The webinar is recorded, and a recording and the presentation will be shared following the webinar.
Speakers:
Julia Marks is a staff attorney with the Voting Rights and Census program at Asian Americans Advancing Justice – Asian Law Caucus. Before joining Advancing Justice – Asian Law Caucus, she clerked for the Hon. Keith P. Ellison of the U.S. District Court for the Southern District of Texas. Julia previously litigated civil rights class actions and other high-impact cases at Disability Rights Advocates to expand access to public- and private-sector services.
Jonathan Stein is the head of Voting Rights and Census programs at Asian Americans Advancing Justice – Asian Law Caucus. He works to increase access to California's democracy for historically disenfranchised communities, including immigrant and limited-English speaking communities, communities of color, low-income communities, people with disabilities, and the formerly incarcerated. He previously served as a voting rights staff attorney for the ACLU of California.
Maria Filippelli is a Public Interest Technology Census Fellow at New America. She has a background in urban planning, civic technology, and data science. Previously, Maria worked at DataKind, an organization that harnesses the power of data science in the service of humanity. She worked as a data science manager with a project portfolio largely focused on democratic freedoms and civil liberties.
Please RSVP here. There will be a Q&A at the end. Please send any questions beforehand to Raima Roy (rroy@advancingjustice-aajc.org), and we will also allow for follow-up questions at the end of the webinar.
Best,
Check out our affiliation's census website CountUsIn2020.org for factsheets, videos, and more!
Raima Roy
Program Associate, Census and Civic Engagement
Asian Americans Advancing Justice | AAJC
1620 L Street NW, Suite 1050, Washington, DC 20036
T 202-296-2300 x 0139
http://www.advancingjustice-aajc.org
Join our email list
Join us October 3, 2019 for the 23rd annual American Courage Awards!
August 9th
August 6th

August 5th
Hi Census Partners,
I hope your August is off to a great start! I'm writing to share information on a census funding opportunity, a new toolkit and factsheets, local trainings, and job opportunities. Be sure to check out www.countusin2020.org for the latest news, blogs, webinar recordings, tools, and more!
Census Equity Fund Request for Proposals (due August 16)
The Democracy Funders Collaborative Census Subgroup has shared their third Request for Proposals (RFP) for the Census Equity Fund. The Fund supports census preparation and outreach in regions with high proportions of historically undercounted populations and fewer philanthropic resources. The third-round RFP has an updated set of priority states based on grantmaking conducted to date, philanthropic and public resources available in states, and population characteristics. Proposals are due Friday, August 16 and may be submitted from funder collaboratives, nonprofit collaboratives, or individual organizations. The Fund is prioritizing proposals that demonstrate coordination or collaboration with other entities to conduct a comprehensive outreach campaign in a state or region. More information is attached. Please contact Amy Dominguez-Arms (amydarms@gmail.com) with any questions.
Count Us In 2020 Factsheets and Toolkit
We launched new resources at www.countusin2020.org/resources. Thanks to the many Community Partners who helped us develop, refine, and review these new resources. We'll have translated factsheets coming out this fall!
You can find new GOTC Factsheets on the census timeline, census 101, and what is asked on the census form. There are different resources tailored for community member outreach and for community-based organizations. Customizable templates for these factsheets will be available next week.
You can find a new comprehensive Community Engagement and Communications Toolkit with GOTC tips, communications resources, and social media guidance. The toolkit includes a deeper dive into our census messaging research with a breakdown of different messages that resonate best across different racial groups and regions.
If you have any questions about the July 2019 test mailing, you can find background and FAQs on this.
APIAVote's Census Trainings
APIAVote is continuing their Norman Y. Mineta Leadership Institute Trainings and may be coming to a city near you! Please see their full schedule here and visit www.apiavote.org/events to register and join an event's planning committee. The five hour training focuses on census 101, debunking myths, and elements of an effective outreach plan.
Census Bureau Resource on Young Children
Please see the Census Bureau's new factsheet on ensuring that kids under age 5 are counted fully and accurately: Counting Young Children in the 2020 Census
Census Bureau Job Opportunities
The Census Bureau's National Processing Center is ramping up hiring efforts for thousands of new positions. NPC is the primary center for mail processing, survey processing, data capture, imaging, scanning, and warehouse operations. Positions vary among entry level, professional, leadership, HR, IT, skilled trade, and more! The greatest need is for the entry-level office Clerks. NPC has two locations — Jeffersonville, IN and Phoenix, AZ. To learn more, visit www.USAJobs.gov and search: NPC or click here for a direct link: https://www.usajobs.gov/Search/?k=npc
Thanks for your leadership in getting our communities counted fully and accurately!
Best,
Raima Roy
July 26th
From: McLean, Lisa (OFM) <Lisa.McLean@ofm.wa.gov>
Sent: Tuesday, July 23, 2019 8:28 AM
To: State Complete Count Committee
Subject: RFP Schedule Change Posted
Dear all –
I would like to alert you to a second amendment to the RFP that was posted this morning: https://ofm.wa.gov/about/procurements-sole-source-contracts-and-intergovernmental-agreements
The deadline for applications has been extended to August 5.
We would still welcome any proposals that might be completed before that deadline.
With best regards,
Lisa
_________________
Lisa C McLean
2020 Census Coordinator
Forecasting Division, Office of Financial Management
Lisa.McLean@ofm.wa.gov
Office: 360-902-0584
Mobile: 360-810-0780
2020 Census
July 17th
From: StatesCount-owner@civilrightscoalition.org <StatesCount-owner@civilrightscoalition.org> on behalf of Corrine Yu <Yu@civilrights.org>
Sent: Tuesday, July 16, 2019 3:08 PM
To: Census Task Force; statescount@civilrightscoalition.org; GOTC-Census@civilrightscoalition.org
Cc: Mary Jo Hoeksema; Howard Fienberg
Subject: [STATES COUNT] FOR SIGN ON: Deadline is July 22 COB
The Census Project is circulating a letter for sign on by national and state organizations. Linked is a letter which will be addressed to the chairs and ranking members of the Senate Appropriations Committee and the Senate Commerce, Justice, Science Appropriations Subcommittee urging robust funding for the constitutionally required 2020 Census.
If your organization would like to sign on, please fill out the form found here:
https://forms.gle/M3fJdXXmjcsQq4nv6
The deadline for organization signatures is COB Monday, July 22, 2019.
We hope you can sign on. Please direct any questions to Census Project co-directors Mary Jo Hoeksema and Howard Fienberg, cc-d here. Thanks!
—
Corrine Yu (she/her)
Senior Program Director, Special Projects
The Leadership Conference on Civil and Human Rights
The Leadership Conference Education Fund
1620 L Street NW, Suite 1100
Washington, D.C. 20036
202.466.5670 – Phone
www.civilrights.org
July 12, 2019
Greetings, (from David Streeter)
I am writing to you to let you know that Washington Nonprofits will be hosting a call next week to connect organizations working on 2020 Census outreach. Please see below for an invitation and call details. Please let me know if you are planning to participate.
Dear Colleagues,
Washington Nonprofits is looking forward to working with you to ensure that all our communities are counted in Census 2020.  We see a need for coordination among all the groups planning census outreach, so we are reaching out to others who we know are involved in this work to invite you to join a videoconference/call to connect us.
We are convening a call next week because we know that many groups are planning their responses to the state RFP and may want to collaborate or at least know what others are doing.  On the call, there will be an opportunity for each person to introduce themselves and give a brief overview of what they are doing re: census.  We can then discuss:
How can we work together and support each other?
How can we have fun along the way?
Are there gaps that need coverage?
We are reaching out to all the groups that we are aware are doing census outreach.  You are welcome to invite others who you know are doing or planning census work to join the call.  It would be terrific if you could RSVP to david@washingtonnonprofits.org so we know how many folks will be joining us.
Here are the details:
Census Outreach Coordinating Discussion
Thursday, July 18, 1-2pm
If you can, use this link to connect via videoconference: https://bluejeans.com/885388312
If you aren't by a computer, you can call in using this info:
Call in Number: 408.317.9253
Meeting ID: 885 388 312
I look forward to speaking to some of you next Thursday!
Have a great weekend, Laura
June 27, 2019
Greetings,
I am writing to share some key developments with you regarding the 2020 Census.
First, the U.S. Supreme Court blocked the proposed citizenship question. According to NPR:
In a defeat for the Trump administration, the Supreme Court leaves the citizenship question blocked for now from the 2020 census, in part because of the government's explanation for why it added it in the first place.

The majority opinion, written by Justice John Roberts, said it "cannot ignore the disconnect between the decision made and the explanation given" by the Trump administration.
This is excellent news! We will continue to provide updates on this issue throughout the summer in case anything changes or there is new information to share.
Second, the Washington State issued its RFP for Census outreach grants. You can view and download the RFP at: https://ofm.wa.gov/sites/default/files/public/about/contracts-procurements/19-600%20Final%20%20%2806.21.2019%29.pdf?utm_medium=email&utm_source=govdelivery Proposals are due by July 29 at 3:30 PM.
Lastly, we've added some additional poster designs and other items to our Census toolkit. Please take a look at the materials at www.washingtonnonprofits.org/2020Census and let me know if we can provide any copies to you.
Thank you very much,
David Streeter